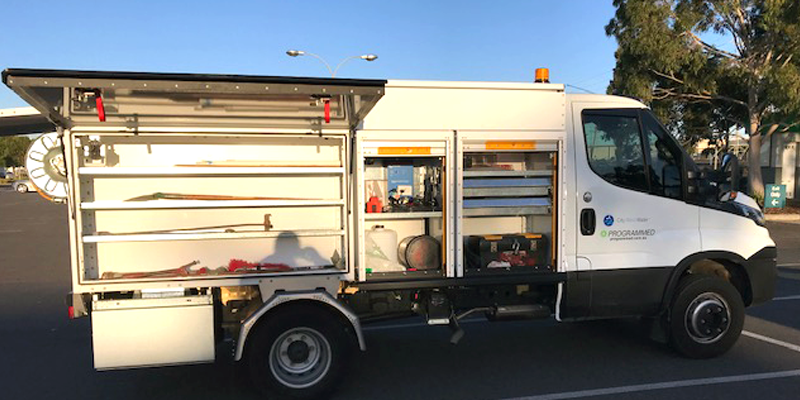 Providing our people with the ability to help influence their working environment, even out on the road, is part of the fabric at Programmed. Recently, a team of technicians were brought in to develop a tailored solution for new sewer response vehicles for our customer, City West Water.
The existing vehicles no longer suited the machinery required to deliver a successful first-time fix across the water and sewer network. Hence, the sewer technicians worked together to design a fit-out for the newly needed sewer vans, that would not only meet their machinery requirements but allow the field crews to work efficiently and respond rapidly to call-outs.
Our team of eight field sewer technicians worked with City West Water, providing layout ideas and technical knowledge to plan and design the fit-out of the new vans. The technicians used their hands-on experience to provide a detailed brief scope and design. The designs not only solve current challenges but also look towards future-proofing the vans, enabling the technicians to deliver a service for the future.

With Programmed's 'first-time fix rate' approach the technology and equipment on the vans now better support a quick response and first-time repair to jobs, allowing our technicians and crews to provide customer support with a rapid response.
Programmed is tracking this through technology and data analytics, and we have experienced some real benefits for our customers and the community.
---
This investment in our people, their ideas and using advanced water technology has resulted in an exceptional outcome for our customer,
City West Water.

Julian Kinder, Contract Executive Water – Programmed
---