Vivid designs and interactive video walls are some ways the boring walls of yesteryear are now being excitingly transformed.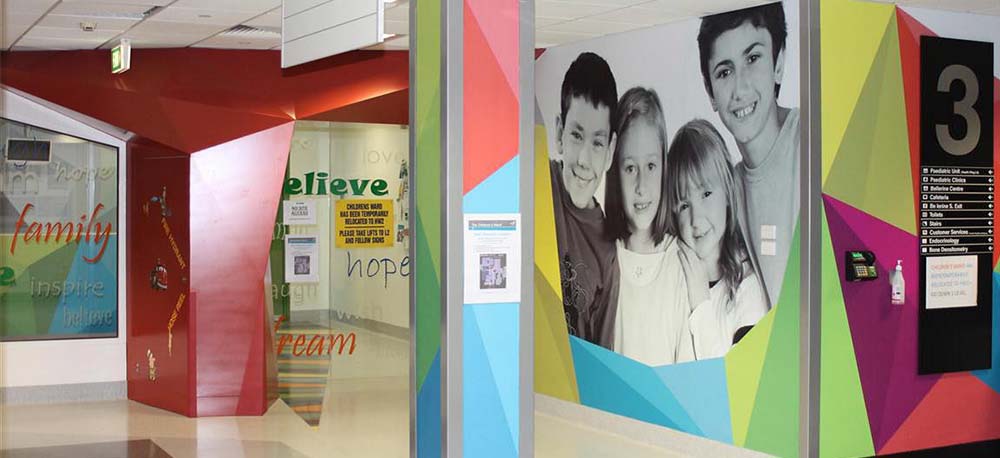 Ever wondered whether your physical premises can be visually integrated with your brand identity? Or how you can use your built-up environment to connect people to a place?
Environmental Graphic Design (EGD) amalgamates multiple design disciplines, such as architecture, landscaping, graphic interior, audio visual, with signage and digital technology to transform boring spaces and walls into canvasses able to explode with life, vigour and all kinds of interactivity.
Also known as Experiential Graphic Design, examples of EGD include:
Way-finding, where signage not only directs, but is also able to aesthetically delight while communicating important branding;
Identity Building, where signage takes on the form of architectural design and installation art;
Murals and Public Spaces, where words, design, colour and texture transform brand values and key messages into distinct works of art.
Increasingly, broader communication is achieved by leveraging these with technology, such as digital displays and mobile connectivity for audio and visual interactivity able to take engagement to a higher level.
A well-honed genius for colours, symbols and signs adroitly attracts, captivates and communicates in an instant. This is integral if relevant, useful messages are to be conveyed in a short span of time, and without information overload.
Successful examples of EGD in everyday life include airports and transportation hubs in busy cities where information systems and way-finding make life easier for people; exhibition areas and museums hosting video walls that tell stories through interactivity; waiting areas decorated with design, colour and text to subliminally influence emotions and communicate brand elements, and art that elevates architectural designs into iconic public landmarks.
[slideshow_deploy id='3581′]
Find out how you can transform your walls and empty spaces with vivid environmental designs and interactivity. Chat to our signage and design enthusiasts today.