Early in 2019 the Programmed Property Services (PPS) Victorian Grounds team began a contract with Metro Trains Melbourne to maintain newly completed park land beneath the elevated rail line between Caulfield and Yarraman stations.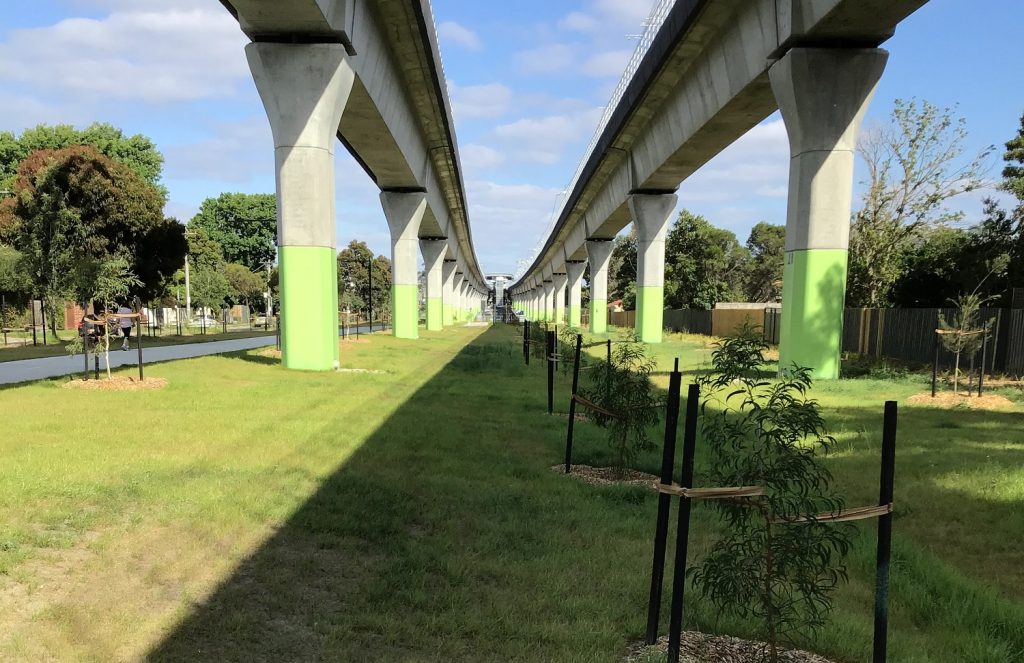 A gardening crew of three currently carries out lawn mowing, weed control and maintenance of new garden beds and plants, while a rotating team delivers up to 200,000 litres of water to these areas daily.
As it is a public space, with some areas consisting of basketball courts and swinging seats, safety the key priority, so it was necessary to put in place a number of procedures, inductions and training programs to ensure zero harm to the community.
Watering begins at 6am and ends at 8pm. To cover the entire stretch of grounds each day, a team of licensed staff rotate throughout the day with shifts that go from early morning right into the night. Water is sprayed from a truck with a six metre reach as it is slowly driven along the pathways. In busier places, a spotter for the truck driver is always present.
As the landscape changes along the track, access points also vary and it is crucial for our staff to be thoroughly inducted and briefed on each location. A week-long induction program prior to commencing work allows every staff member to be familiar with each site, their relevant operational procedures, and the necessary safety precautions. For instance, the 17km shared path along which the watering truck is driven becomes narrower in certain places. Servicing those areas requires different access points and methods, therefore Programmed staff must be fully aware of where these places are situated and understand clearly the requirements for carrying out the work properly and safely.
As a result of this stringent focus on safety, PPS have received minimal complaints; all thanks to our vigilant staff who are constantly mindful of the need to minimise noise, accommodate foot traffic and work around community activities to ensure safe work in the very public spaces in the sky rail's vicinity.